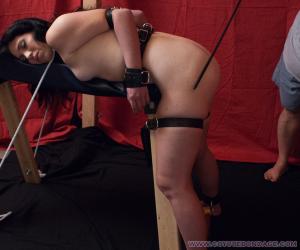 91 photos
Samantha Grace was in trouble. She knew it. And now it was time for her to get the punishment her Master demanded.
As a slave, she was already kept naked.
Then came the trip into their private dungeon. Samantha had no idea what he was planning.
He led her to the large frame where she had been tied to many times before. Slave Samantha began to get nervous.
He tied her to the frame, immobilizing her and now she was a beautiful target for the flogger.
Then he showed her the flogger she was going to use on her. When he clipped it to her collar, the tails were almost down to the floor. This was one wicked flogger capable of inflicting a lot of pain. She winced as she felt the leather against her skin.
She knew she was in for a long night...