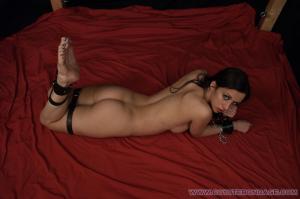 116 photos
A naked slave.
She waits for your pleasure, ready to please you in any way you desire.
Slowly you cuff her wrists, her ankles, putting a chain between them.
She rolls around sensually, her eyes full of passion.
Then you roll her onto her tummy and fasten the leather hogtie to each ankle and wrist cuff.
You watch as she struggles in the tie, feeling the arousal within while watching the helpless gal.
Arent bondage games fun?