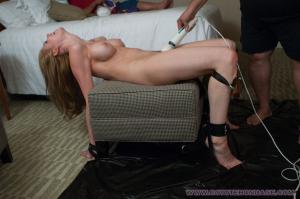 61 photos
What do you do with a naked, somewhat willing, bad woman who's a slave?
You make her suffer as a punishment, of course.
Conveniently, there was a footstool nearby, and I bent Candle Boxxx over it backwards and strapped her to it. I also strapped a spreader bar between her legs-she wasn't gonna be able to stop what was cumming!
When I turned on the Hitachi Wand, she smiled. Then she found out how wicked it was-I had added a switch that would allow me to control the speed over a complete range, not just two speeds!
I brought her to the brink of an orgasm several times, stopping when I knew she was close. That's tormenting her, and she pleaded for release.
When I finally decided she had learned her lesson, I let her have the Hitachi Wand at full speed... what a reaction!