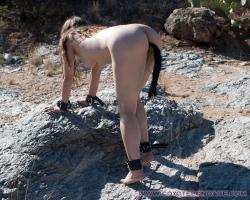 100 photos
Mandi had always wanted to be a ponygirl. Now was the first time she would get her chance, as she was led out into the desert.
On went the bitgag, in went the buttplug with the horse tail... he wanted to break her in slowly.
He let her roam around a bit, learning how to be a ponygirl... along with the riding crop, a toy she would learn well during her training...