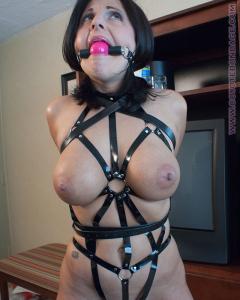 60 photos
Lola went to the hotel for a bondage shoot. She thought it was going to be a light, mild bondage photo session. Instead, she found herself tied tight and a gag stuffed into her mouth. The tighter he tied her, the hotter her loins got.
After he had bound her arms using the arm binder, she got so excited that she couldn't take it anymore, and begged him to fuck her right then and there...
In the end, Lola was satisfied, and so was the photographer!