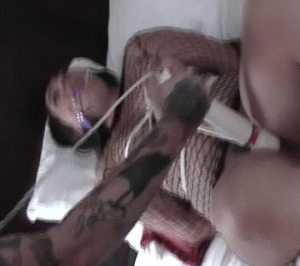 6:06 video
Poor Sinn Sage.
She thought this was going to be your typical bondage shoot.
Silly, silly, silly gal.
She had a cute fishnet outfit that I liked, and I told her to wear it for the shoot.
I tied her nice and tight, with a crotch rope pulled as tight as she could stand it. She had absolutely no idea what was going to unfold as I ball-gagged her.
After I tied her up on the bed (and that fishnet outfit just added to the mood) I showed her my Hitachi wand.
You could see terror on her face, but tied as she was, there was no escape.
I brought her to the edge of a climax several times, only to deny her that final pleasure. She would moan and whimper each time I quit when she was on the edge of cumming. She definitely (and desperately) wanted to cum. The denial of that climax she desperately wanted only intensified the sensitivity of her body, especially her pussy.
Putting the Hitachi wand on her crotch ropes did wonders for her wriggling and screaming on the bed.
When I finally finished with the Hitachi wand, she was begging for that climax that I had denied her.
Silly gal, you should have known better. Well, when I finally allowed her to cum, she had a very intense orgasm.
Maybe next time I'll bring a mask or even a hood to cut off all of her senses...
I like playing the part of the little devil...