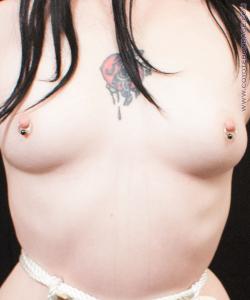 85 photos
"What's mummification?" she asked me.
"It's where you get wrapped up with duct tape and can't move." I replied.
"Let's give it a try!" is what she said.
So, I began the whole session by tying her arms up. Next came her pussy, something I didn't want to forget. I gave her quite a crotch rope, snugging it tight, and loving how it pressed against her pussy.
Saran wrap was next, going from ankles to shoulders. I could see in her eyes this was beginning to affect her in a good way.
When I started wrapping the duct tape around her, I sensed that she was sexually excited... and moist. I kept on wrapping and wrapping, even giving her a duct tape collar. By the time I was done, she was mesmerized.
I laid her out on the bed, snug in her cocoon. I watched as she drifted off into subspace, the confinement stimulating her senses in an erotic way.
I let her float in that world only she knew for an hour or so.
Once I began cutting her cocoon off, she was horny as hell. I teased her as I cut slowly, gently, and teasing her skin with the wrap coming off. The suddenly cold air had an erotic effect on her. Off came the ropes, and her pussy was dripping wet. She almost couldn't wait...
I satisfied her horniness by fucking her brains out. It was one of the most intense and wildest sex I ever had.
I noted to do this again in the future...