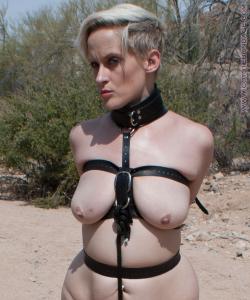 111 photos
Amanda Fierce is a newcomer to the world of bondage and bondage modeling. She actually asked me to "show her the ropes" with regards to such things. We went out to a deserted desert spot to have some fun in the wild - and not be disturbed at all, because she loves the outdoors.
I discovered she was quite the rope bunny and a pain slut, so I indulged her a bit with both - after giving her some good rope ties, I got out a good, heavy-duty leather flogger and let loose on her ass, turning it a nice shade of red.
Then I strapped her all up with nowhere to go...
Such fun, and even better with a new model!