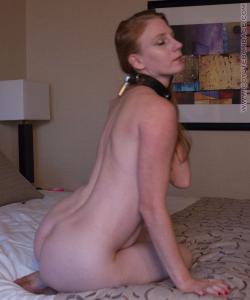 92 photos
Renee Blaine came over for a visit. Well, it was more than just a visit...
She thought the collar was a bit silly at first, until she started feeling the tug of the padlock on it. Then she decided to start playing around on the bed, posing, twisting and turning, sometimes being really provocative.
Provocative indeed. She wound up with her arms strapped tightly behind her and a short length of chain between her ankles. While the chain would hobble her, it didn't restrict any access...
Silly gal, indeed!