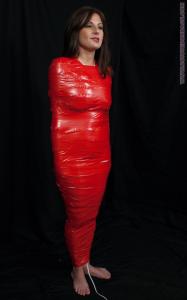 141 photos
A lovely, naked woman.
A Hitachi wand.
Plastic Wrap.
Lots of duct tape.
What does all this add up to? Having a lot of fun! Lola Lynn thought that just the plastic wrap and Hitachi combination was going to be fun. Then I duct taped her from neck to knee. Then she found out about one of the modifications to my Hitachi wand... it has an infinitely variable speed control! Needless to say, that took Lola by surprise...
I brought her close to orgasm numerous times, teasing her, titillitating her, tormenting her... until I finally decided she couldn't take any more. When she finally came, it was one very tense orgasm!