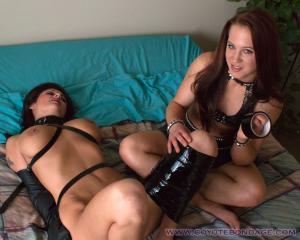 70 photos
I don't know how she did it.
But she did.
Even dressed up as she was.
Poor Lola never knew what hit her.
Cheyenne lured Lola into the bedroom on the pretense of asking about some decorations. It didn't help that Lola had just gotten out of the shower and dried off, but Cheyenne was insistent.
First came the armbinder.
Then Cheyenne XXXX Lola onto the bed.
Next came the bondage tape, to keep Lola from escaping.
Finally, the vibrator...
Cheyenne had Lola purring in her hands...